DEAN FOREST RABBIT HAVEN
Hi we are Sue and Tim. We have just moved from Bracknell in Berkshire where for a number of years we ran a rabbit rescue and rehoming centre. Some of you may remember us as Bracknellrabbitrescue.
We are now living in the Forest of Dean, Gloucestershire. We have decided not to reopen as a rescue centre, but to offer permanent homes to disabled, terminally ill or unrehomable rabbits. With the help of our new vets at Pets Barn we can offer excellent health care, plenty of space and lots of tender loving care for the rest of their days or years hopefully.
If you live near us and would like to visit us to chat about the care etc of rabbits you will be more than welcome.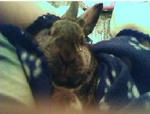 OUR DEAR ALFIE
FOR ALL YOUR BUNNY ITEMS PLEASE VISIT OUR ONLINE SHOP. WE OFFER PAYPAL, CHEQUE , POSTAL ORDER OR CASH AS PAYMENT. IF SENDING CASH PLEASE SEND BY RECORDED DELIVERY FOR YOUR OWN SAFETY.
WE ALSO SELL ITEMS FOR CATS, DOGS, FERRETS, RATS, AQUARIUMS, PONDS AND REPTILES
Did you know that rabbits are the third most popular pet in this country, but sadly the most misunderstood and neglected as well. There are over 33,000 rabbits sitting in rescue centres in the uk alone. If your looking for a pet bunny please go along to your nearest rescue centre where they are more likely to be already neutered and vaccinated. If you would like to know of a reputable rescue in your area, then please contact us and we can give you details.
If cared for properly rabbits make wonderful pets, they are not suited for small children, because being a prey animal they do not like to be picked up, and will struggle and kick out. However if given the opportunity to gain your trust they will come to you for nose rubs and if you sit on the floor with them they will even sit on your lap for a cuddle, but it must be on their terms.
Neutering is essential for several reasons, most un-neutered females will develop uterine cancer around 2-3 years of age, there is no way of knowing if this happens until you find them passed away. Un-neutered males will spray urine to territory mark the area. Once neutered you can also keep them in pairs as rabbits are communal animals and enjoy the company of another rabbit. Neutering also eliminates aggression and makes the rabbit more friendly towards us. It also greatly increases their lifespan. Well cared for rabbits can now live for 8-10 years.
Rabbits need lots of space to excersise and keep themselves trim. Most shop bought hutches are totally unsuitable and shoddily made.l For space, safety and value for money a childs wendy house or 6ft x 4ft shed is much more ideal. You can add a shelf for storing your bunny bits and add a cat flap to allow access to a run attached to the side. It also means you keep dry when cleaning them out in foul weather.
Vaccinations for Myxomotosis and VHD are very important as both these diseases are killers and spread rapidly from rabbit to rabbit.
More working people are now keeping rabbits as house pets instead of dogs. They interact with you much more and cause endless entertainment with their antics, BUT, you must bunny proof cables as they may get chewed, a cheap and simple way is to put cables through lengths of hosepipe. Also dont leave prize possessions in their reach as they may find them great to nibble on, but if precautions are in place they are ideal for living indoors. We have 5 house buns and they are far better to watch than TV.